Talent blog: Talent does not lie
TALENT DOES NOT LIE
Talent does not work with 'alternative facts'. You may get side-tracked for a while and get lost, but if you remain aware of your talent, you will automatically get back on your feet at some point.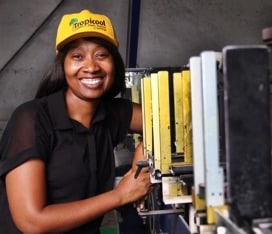 Success
This is what Kareen in Zimbabwe experienced. She was one of the participants in our Brilliant Entrepreneur programme. Kareen runs a business in window decoration, and makes people in Zimbabwe happy with Luxaflex, beautiful blinds and awnings.
Being a brilliant entrepreneur suits her very well. Her business is growing fast and she has even started to expand to Zambia and South Africa. Not bad for an entrepreneur in a country that is currently in serious financial crisis.
Reevaluation
Still, something began to gnaw at her. She then realised that she did not have enough space for her talent. Kareen's talent is 'creative visualiser'. She started to reflect on her success. She had left a creative environment and opted for production. Now she missed the creative part. Should she continue down this path and end up burned out and unhappy on the sofa? That is not what she wanted.
She needed to change things. She needed to re-organise her business drastically to create space for creativity. This called for the delegation of production tasks on the one hand, while creating a design team for a new home decoration product line based on her own designs, on the other. She immediately gained new inspiration for her work. And she gained a unique position on the market!
Touchstone
Talent is a great touchstone. You can check at any time whether what you do fits your talent. Or whether you do things in the right way, in line with your talent. Talent does not lie and always gives off signals. The challenge is to recognise the signals, through your body, your energy level, your inspiration, your social relationships ... This requires an alert internal focus! You can train yourself to become more alert through simple exercises.
Tips for your talent
Put aside one day for intense self-observation.
Whenever and whatever you do, ask yourself: does this fit my talent?
If this drives you crazy: write down your concerns
At the end of the day, choose one thing you would like to change.
This can be what you do or the way that you do it.
Good luck!
Warm regards
Yvette van Dok
Co-Motion Consult